Posted on
May 6th, 2020
by
Next up on Loot Box Week is a Super Mario Loot Box.  I got it on sale at Wal-Mart after Christmas last year for five bucks!  It was on clearance so I doubt you can find it now.  It was such a good deal that I bought the other same one they had and gave it to one of my brothers for his birthday.  Anyway, let's take a look inside!
Here is a bigger picture of the box.  It's made to look like a question block, which seems appropriate for a loot box.
Here is all you get inside.  There's a mushroom shaped lunchbox, but it's really small.  More like a snackbox.  Also a pretty small sized Mario winter hat and scarf with question blocks all over it.  A post-it note pad block made to also look like a question box is in here, as well as a vinyl figurine of a mushroom on a question block.  Rounding out the package is a set of themed patches and a collectable coin.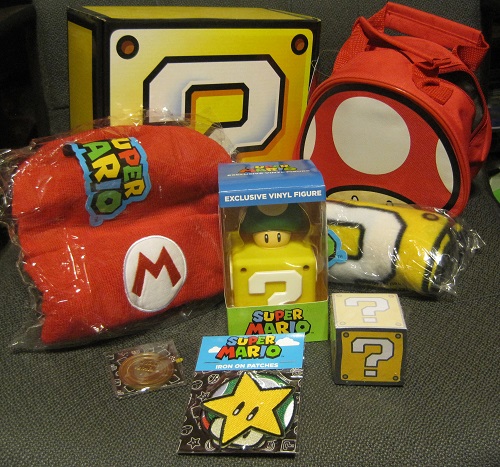 And that's it.  I have to say that I only got this one because it was five bucks.  I'm not as big of a Mario fan as people may think I am.  Don't get me wrong, I buy most every new Mario game out there and I've beaten most of them, but there are so many other game series I like much more than Mario.  Like Kirby, Pac-Man, Mega Man, Animal Crossing, Zelda, Metroid, etc.  It would be cool if some of those franchises had loot boxes!  Even then I'd probably get them only on sale!  Anyway, I've saved the best for last, so find out later this week what the final loot box will be!  If you know me pretty well, you might already have a good guess!