Posted on
May 8th, 2020
by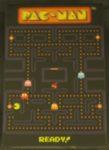 We're ending Loot Box Week on a high note, as I've saved the best for last.  Well, you all may know how much I like Pac-Man, so it's the best for me anyway.  I first saw this Pac-Man Loot Box before Christmas at Target, but it was too expensive.  So after Christmas I got it on sale.  Even then, it's the most expensive loot box I've ever bought, at 20 bucks.  And the paper packaging around it was gone, too.  But I said, "Aw what the heck" and bought it anyway!  So let's take a look inside!
Here's a closer shot of the box, which has the Pac-Man maze on it.  You know I could probably draw this maze from memory?  Sad, huh?
And here's what's in the box!  There's a Pac-Man mug with a raised image of Pac-Man, and ghosts following him wrapped around the mug.  There's also a nice magnet, lapel pins, and coasters of Pac-Man and the four ghosts.  Since the Pac-Man coaster has a wedge in it, it seems to defeat the purpose of a coaster, at least to me anyway.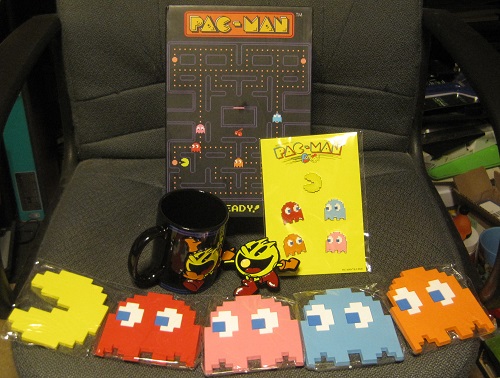 And that's all of what you get in the Pac-Man Loot Box!  I hope you enjoyed this week of looking at different ones.  What kinds of loot boxes would you like to see?  Let me know in the comments section!  Later!