Posted on
August 12th, 2020
by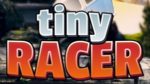 In this 3-D racing game on Switch, choose from a selection of cars and race on tracks in single player or multiplayer.  You can do a tournament where you compete on multiple tracks for points, race a single track in an arcade mode, and beat your best times in Time Trial.
Play control is super simple.  One button to accelerate, one to brake, and one button respawns you if you get stuck or flip over.  And that's where the game's problems lie.  It's so easy to get stuck in the tracks or flip over, so you'll be pushing that button a lot.  The game engine seems to be physics based, so it's very easy to crash and flip at the slightest fall.  Why not just make well designed tracks where you wouldn't have to worry about using that button all the time?  CPU racers also tend to crash all at once and bunch up where you can't get past them, but then a couple of them will break through and you'll never see them again.  It makes it very hard to win or even place.
The game advertises that you'll be able to race on tracks in giant locations like a living room, bedroom, bathroom, etc.  But those are all locked.  To gain access to them, you must first finish boring tracks set in a mountainous forest and they all look the same.  But the game plays so badly I can't imagine anyone getting that far.  It's a shame, too, because I was really looked forward to racing on those tiny tracks.  I really hate giving games a bad review, but I just can't recommend this one.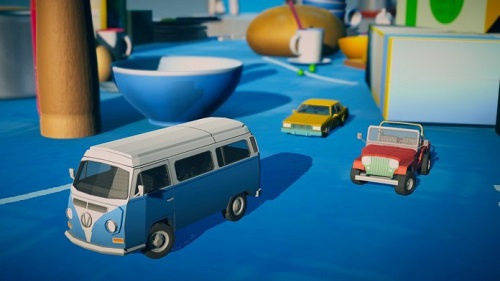 Kid Factor:
Cars can crash and flip over, but they just look like toy cars and disappear in a puff of smoke when you respawn.  And that's as violent as it gets.  Reading skill is helpful for some of the menus, but not necessary just to play.  Younger gamers may get frustrated at the high difficulty.  Tiny Racer is rated E for Everyone.