Posted on
December 4th, 2020
by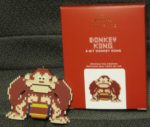 Hallmark always has a wide annual selection of new Christmas ornaments and series, and in the past few years they've even done video game related ones!  This year they had more than ever, and I got most of them, so I thought I'd share them with you here.  Most are from Nintendo games.
Metal Pokeball
Most of the ornaments you can get online and in stores, but a couple of the ornaments were limited store exclusives.  One of those was a metal Pokeball ornament.  I managed to be able to get it, so I was glad about that.  It's about the size of what you'd think a real Pokeball would be, and even though it's real metal, it's not too heavy to hang on a Christmas tree.
Pikachu
I'm surprised they haven't done more Pokémon ornaments in the past, since they are so popular and have plenty of material to work with.  I'm sure the Pikachu ornament would look better hanging on the tree, as it would look more in an action pose.  Here it just looks like Pikachu is tired or got run over!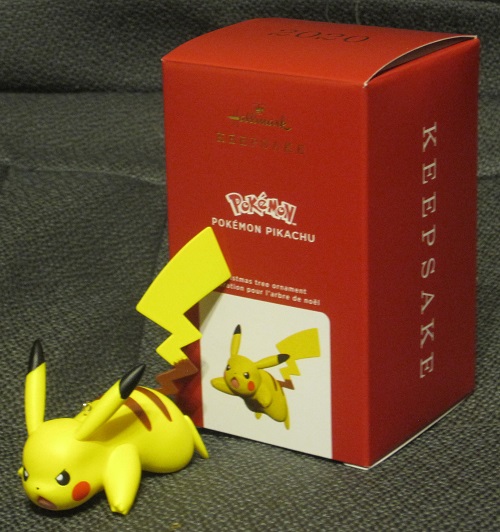 Joust Arcade Cabinet
This is the only non-Nintendo related ornament I got.  They also had ornaments of Fortnite and Minecraft, but I didn't get those because I'm not really into those games.  But I'm glad they did Joust because that's one of my favorite arcade games.  I even like Joust more than Balloon Fight (sorry Iwata).  When you push a button, it lights up and makes sound effects from the game.  Oh, and any of the ornaments here that light up or have sound, the batteries are included so that's nice.  I hope they continue to have classic arcade cabinet ornaments in the future.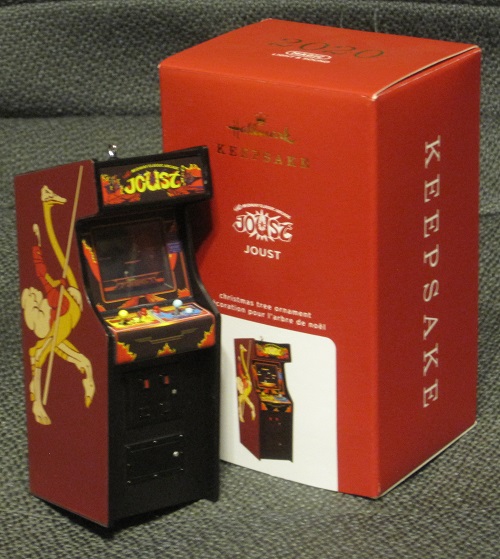 Mario Kart: Yoshi
While I'd rather have Toad in a kart, here's one with Yoshi.  The pipe frame feels like real die cast metal, and the wheels roll, too, so that's nice.  When you look at Yoshi from the side of this ornament, he does look a little chubby, though.
NES
The lady working at Hallmark said this was one of their bestsellers, and I can see why.  So if you want one, you'd better buy it as soon as you can!  Anyway, it's a replica of a NES console (like a mini NES Mini), and even has cords with the controllers on top.  The holes for where things plug in are in the right spots, too, so it's very authentic.  You can even open and close the front lid and see a Super Mario Bros. cartridge inside!  And when it has batteries, you can push the power button and it'll play sounds and music from Super Mario Bros.!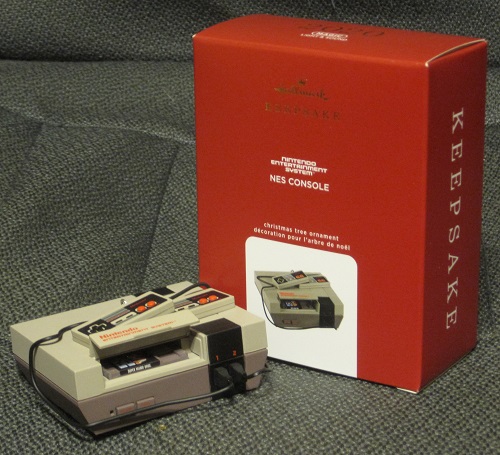 Classic NES Zelda Gold Cartridge
People my age probably remember seeing the gold Zelda cartridge and knowing that game was something special because of it.  So here's an ornament of that cartridge!  One thing to note about this ornament is that it's pretty HEAVY!  I'm sure it's made out of metal like the Pokeball ornament, but it's even heavier than that!  I'm pretty sure it's even heavier than the real Zelda cartridge!  It'll definitely weigh down whatever branch you hang it on!
8-bit Donkey Kong
Remember how I said the Pokeball ornament was limited to stores only?  Well this was another one.  While I wouldn't have been too upset if I missed out on the metal Pokeball, I would've been pretty sad if I didn't get this one.  So I'm glad I did.  The box doesn't do this one justice, it's pretty neat.  Stands on it's own, too, and very light.
8-bit Mario Bros.
Hallmark also makes miniature ornaments for tiny trees.  I used to have a little tree like that for my dorm in college, but I only had cheapy Looney Tunes and Garfield mini ornaments for it.  Anyway, these are ornaments of Mario & Luigi from Super Mario Bros.  Like 8-bit DK, they stand on their own but they are tee tiny.  Smaller than a quarter even.
BONUS Ornament: Animaniacs
OK this one isn't video game related (but they did make video games based on it back in the day, even one on GameCube).  But Animaniacs is one of my top favorite cartoons, and you don't see too much merchandise with them so I had to get it.  I guess they made this ornament since they're rebooting the series on Hulu (when this article gets published it should already be out) so I guess I'll be mooching off my brother's Hulu account then.  It's a great ornament, I only wish the bottom of the water tower had little legs so it could stand up on it's own.  As it is, it's rounded and wobbles around like a Weeble.  Maybe next year they can do a Pinky and the Brain ornament!
Anyway that's all the ornaments I got this year!  Let me know what you think in the comments section.  Oh, and here's some links to video game themed Christmas ornament articles I've written in the past.  Later!  –Cary