Posted on
September 17th, 2021
by

Monster Hunter Stories 2 is a 3-D Switch adventure game set in the popular Monster Hunter world.  And like any popular game, there are amiibo figures for it, too.  I FINALLY got them all, so let's take a look at them!
Here they are in the box.  From left to right you have Ena, Razewing, and Tsukino.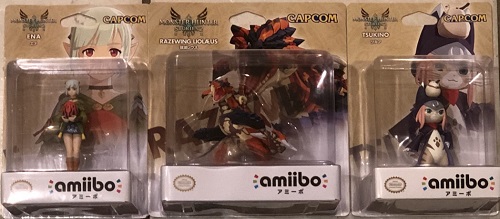 And here they are out of the box.  I haven't played any Monster Hunter game so I'm not familiar with these characters.  I'd like to play Monster Hunter Stories 2, as it looks pretty cool.  But I just don't have time to play all the games out there.  Maybe if days were 50 hours long and I didn't have to sleep or work I could.
Anyway, from what I can tell, Ena is the cute lady holding an egg.  Razewing is a bird dragon thing who is a little bit bigger than a normal amiibo.  And Tsukino is a cat person who wears a hat and a coat, but no pants.  I've noticed there are a lot of cat people in Monster Hunter games. There's also a bird on top of Tsukino's head, and knowing cats' instincts, that's one brave bird!  As always, the attention to detail on these figures is great.
I have to say, though, that these were some of the HARDEST amiibo figures for me to get!  Capcom really didn't advertise these very much, so I didn't know about them for a while.  And you KNOW I keep on top with amiibo releases.  So because of that, I had to import the Japanese versions of these.  And then once they came in, there was a mis-shipment and I got the wrong one, and another was broken!  So that's why it took so long for me to post this article!  I'm 'dreading' trying to get the upcoming Metroid Dread amiibo at this rate!
Did you know that the original Monster Hunter Stories game on 3DS had amiibo, too, but they were only released in Japan (and they were easier to get than these amiibo, too).  You can read about them here.  Also, I think it's interesting that at one point, Animal Crossing: Happy Home Designer had a promotion with Monster Hunter where you could get themed furniture and whatnot.  Anyway, that's all for now, later!  –Cary