Posted on
November 3rd, 2008
by
Politics at GamerDad are never simple. On the Right, you have the Cultural Conservatives, the "Moral Majority" (evangelicals and other people who want to impose "morality" on a society they see as slipping downward). While on the Left we have the "It takes a village" and the "protect the children" crowd (the people who attempt to ban all "play" violence). Both ban videogames for the same reason – violence – differing only in how much language doesn't bother one side and how much sex does the other. Because of this, I serve both sides and don't want to alienate either. But Tuesday is important and I have something to say about Barack Obama.
I won't try to convince you to vote for him. I won't list the reasons I have, but I will point out his statement on our hobby and our parental role in it.
Gaming blogs, right now, are making a big deal about Obama saying we need to "turn off the TV and put away the video games." Bloggers making hay – for whatever reason – are knee-jerk reacting. Are gamers so deluded as to take offense at any suggestion that video games aren't ALWAYS worthwhile pursuits? The context of this statement is clear. If people want better lives, to better themselves and their country, to stop watching TV and playing games all the time and do something about it.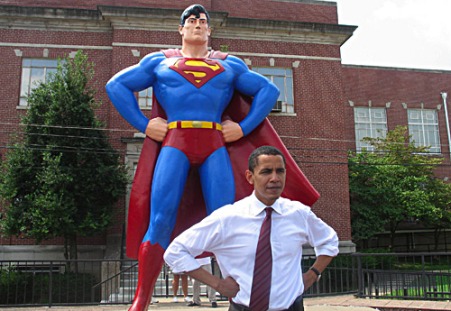 GamerDad is 100% behind that message. 100%. Games are spice to life. They help parents and siblings bond, they can educate kids and inspire them, they need to be used responsibly as part of a life. An important part in my view, but something that needs to be put aside in favor of a real life.
FWIW McCain is hardly a crusader. He seems beholden to the Religious Right at the moment but that could change. He's known for changing his views suddenly but has never developed a reputation as a censor or moral demagogue.
Tuesday, after I give my keynote at the ALA Symposium in Chicago Linda and I are hurrying to the train, then home, then to pick up the kids from school, then to the polling place. This is an important election – don't let silly defensiveness over the relative merit of you're precious little gaming hobby threaten your rights. For what it's worth and for plenty of reasons, GamerDad heartily endorses Obama/Biden in '08.
Vote your conscience on behalf of your children.
Photograph by GamerDad at a rally in Milwaukee WI March '08.
Superman Picture is from the Internet, I don't know who took it but it's been my desktop here at GD central since June.