Posted on
November 17th, 2013
by
With Thanksgiving and Christmas coming up, it can be tough to stay in shape. Luckily you can keep a step ahead with Zumba Fitness World Party, the latest in the fitness dance video game series. Travel around the world and dance to songs from Brazil, Europe, India, Hawaii, and more! 40 songs in all! (Wii U version reviewed here)
Zumba is a popular fitness program that incorporates dance and Latin music to keep you moving with a cardio workout. It's been extremely successful, with best-selling DVDs, clothes, live classes, and video games. The Wii U version of World Party comes with a belt that you strap to your waist, and then put the Wii remote in the pocket on the right side of your hip on the belt. The Wii remote will measure your movements as you dance, so for the best results, make sure the Wii remote is on the side of your right hip. You can use the Wii U pad to navigate menus, but that's it. It's handy, however, because you can keep the Wii remote in the belt pocket while you do that.
To play, simply follow along with the movements of the Zumba fitness instructors on screen (this game features real life celebrity instructors, by the way). Watch the screen for picture cues on what moves come next (although it's easier just to watch the instructors). The better you move to the music, the higher rating you'll get, from Nice, Hot, to Zumba. Get enough high ratings and you'll go into euphoria mode and the background scenery will change, letting you know how well you are doing. Keep it up and you'll earn stars. Stars unlock all sorts of goodies, from new songs, videos, and more!
Just like in the other games, you can dance to s single song or try short, medium, or long classes. Or create a custom class (like making a playlist). Review the different dance moves in the tutorials or track your progress. After setting up a profile, the game keeps track of various statistics like how long you've played and how many calories you've burned. You can also view awards and videos you've unlocked, as well as set personal goals for yourself that the game can keep track of.
New to the series is World Tour Mode. Here you choose one of seven countries and dance to songs from those regions. Dance to Salsa in Brazil, Hula in Hawaii, Irish dancing in Europe, Bollywood in India, and more! These sections are about as long as a short regular class, but you can unlock songs, videos, as well as postcards and souvenirs to view in your in-game scrapbook.
Even though you can tell the celebrity Zumba instructors are dancing in front of a green screen, I still liked the effects they did when you do well in a song. The background gets more colorful and more people start dancing with you. My favorite is the castle background when the sky turns into Van Gogh's Starry Night painting. Of course, sometimes it's weird when two of the same people are dancing in the background, and one of the lens effects makes it look like the dancer's head leaves his or her body, but that' s just nitpicky stuff.
There really isn't any big secret to how Zumba works. You're moving around a lot, so you get a good cardio workout, that's all. It's fairly easy to get at least three or four stars on each song, so even people who can't dance very well (like myself) can still have fun with this game. So if you like dance music video games and want to keep fit, Zumba Fitness World Party is a great choice.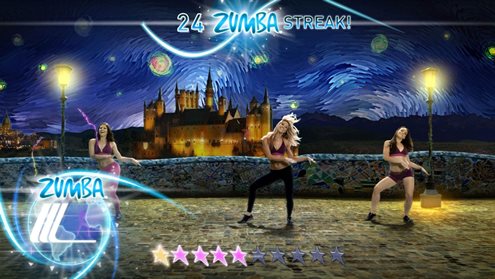 Kid Factor:
Zumba Fitness World Party is rated E for Everyone with ESRB descriptors of Mild Lyrics and Mild Suggestive Themes. The songs are nothing worse than what you hear on the radio, and I guess the suggestive themes may come from the slightly revealing clothes that some of the dancers wear, or maybe the dances themselves. Nothing worse than what is on the Zumba infomercials, though. I don't know, I had no problem with either. Reading skill is helpful for the menus. Up to four can play at the same time, making it great for the whole family.
This game could certainly be considered educational because not only does it teach real dance steps, but also introduces kids to different types of music, dances, and cultures. Best of all, the game doesn't really penalize you for not getting the dance steps exactly right, just as long as you keep moving, you'll do OK. So even young kids (and klutzes like myself), can play just fine. Plus, kids just love to dance.
Zumba Reviews:
Here are some links to other Zumba games I've reviewed: